​
​Hi!
Say Hi back....Click Below
Case Study #1




"Alastair found amazingly creative ways to increase sales and rank eFundraising.com as one of the fastest growing companies in North America. e-Fundraising increased sales by more than 400% with Alastair's help in making strategic alliances which enabled them to corner parts of the school and youth sport fundraising markets. Highly recommended."

Martin Gendron, Senior Fundraising Consultant, eFundraising.com

After working with eFundraising.com to design and implement an innovative sales training program with 50+ staff; the next challenge was to provide their sales team with a greater number of sales leads.

eFundraising has traditionally relied on SEO / traditional online marketing and traditional direct mail/print advertising to create brand awareness and generate online inquiries to generate sales leads.

Now that there was an organized and knowledgeable team of consultants ready to help almost any group needing to raise funds - it was time to increase sales and continue to grow at unprecedented speed.

Simply put - I was given the authorization by the CEO and co-founder of the company to open up a new division of the company, eFundraising.com's business development department; still running to this day.

It was decided only to pay for results - which were good quality sales leads. using a combination of CPA and CPL. We started partnering with not only individual online marketers, but well known organizations that in turn allowed us access to their large member base.

in the first year of operation, leads generated by the business development division accounted for 25% of the companies sales leads alone; within two years that number continued to climb.

Not only did I enjoy seeing a new division grow from one person to 8 staff, but the relationships forged with partners and staff alike are still alive today.





Case Study #2


"I am proud to say that Alastair and I work together at FundScrip. You would be hard pressed to find someone more creative and enthusiastic about growing sales! Highly Recommended."

Christopher Hill, CEO, Fundstream Inc

FundStream Inc was the new kid in town in Canadian fundraising. The Scrip industry had been around for years, but in Canada - that was not the case.

The first mandate was simple:
Open as many doors as you can with top 100 Canadian retailers, tell them how the company aims to help groups fundraise, and negotiate discounts on gift cards.

Within the first couple of months we had done just that; FundScrip now offers 80% of Canadian GiftCard retailers.

The Second mandate was not so simple:
Generate online sales leads for FundScrips Sales Consultants to follow up on. This sounds simple, but when no one is searching for your company name (as you are new) and no none knows what a 'Scrip Fundraiser' is in Canada - things get interesting!
The first idea was to firstly get to know which group types would be looking for fundraisers and when..Then it was a matter of designing mini websites (microsites) that people would be directed to based on their group type.

Working with an old friend who is excellent at CPC campaigns - we set up an extremely comprehensive campaign with a limited budget and watched carefully as our Ad's generated clicks, then requests for information.

Every day we tweaked the campaigns and squeezed as much juice out of our budget as we could.
FundScrip grew and grew, the Sales Consultants had a hard time keeping up with the influx of leads, and sales grew very quickly.

I'm happy to say that I am still in contact with FundScrip - which now dominates the Canadian Scrip industry; yes other companies came and went trying to copy the model - but the FundScrip brand had spread very quickly and was hard to catch!



---
Case Study #3


I was invited to join OneBigPlanet Corp in the role of Director of Content in May 2007; after successfully building a new department of 6 staff and negotiating over 500 national partnership agreements, the position of Business Development Vice President was then offered and happily accepted.

Introducing OneBigPlanet to hundreds of companies sounds like a huge task, which when looked at from 10,000ft it is - but where I excel is taking a big task and breaking it down into a step by step process.

Building relationships with Google, Commission Junction and LinkShare was my first step, the real challenge was finding the ear of decision makers and having them buy into the very core of OneBigPlanet's value proposition.

Once the platform was filled with merchants offering great deals for the end consumer - OneBigPlanet needed to sign partners that had access to a large number of consumers.

They also would have to be a recognized brand that would help pave the way to larger accounts by adding credibility for the young company.
I brokered an exclusive deal with CBS Corporation, Subway Restaurants, Meredith Corporation, and around 10 others within 6 months. Mission accomplished!

Flying around the US meeting suitable prospective business partners, brainstorming possible ways to expand OneBigPlanet Corporation's core offering and revenue streams while working side by side with the CEO to keep staff on the road to success is a favorite part of what I am asked to do.
I love what we have all achieved and love the company which I have helped mold.

Case Study #4

MemberBenefits has been helping Public Media TV & Radio Stations for over 20 years.How? By offering exclusive Member Benefits to their supporters (Members) via a network of 12,000 + local merchants who accept the MemberCard.
I was invited to help implement the latest evolution of the companys service; the new 'MemberCard Connect' platform.

Each non-profit we work with can now give their Members access to 1000's of online retailer rewards, cash back, and additional features like coupons that they / we create to take in store - and Members can see via mapping technology where their MemberCard (showcard) can be used in their local area.
We have 12,000 local benefit providers... a tasty portfolio of 2-1 discounts - one I aim to grow into a monster of a network...

Current projects include introducing mobile app's to increase benefit usage and new member acquisition...


Within the first 24 months new client acquisition has risen to levels never experienced since the inception of the company; an accomplishment I am very proud of...
Powered by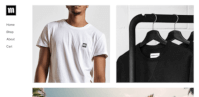 Create your own unique website with customizable templates.