Alastair Monk - Business Development & Marketing Executive OBJECTIVE:
Bringing 15+ years of sales, business development, leadership and strategic planning expertise
Looking to join a company who's mission is to be the leader in their industry.
HIGHLIGHTS OF KEY SKILLS:
Executive Vision, Planning, Strategy & Execution Team Building, Motivator and Leader
Driven Sales Manager focused on results Cross-Functional Team Leadership
Created New Product & Market Development Process & Performance Improvement
Skilled Presenter and Motivational Speaking Innovator and Idea Generator
Experienced and Savvy Contract Negotiator Recruited, Hired & Training Sales Teams
Professional Experience ReturnMe
2014 - 2016
Vice President Business Development
ReturnMe is rapidly expanding, with clients in the U.S., Canada, NewZealand, Australia, Holland and Belgium; - and winning industry awards with our network of distributors.
We facilitate brands and organizations to offer global recovery protection for their customers and members - on their most valued items - such as mobile devices, keys, pets, laptops, wallets, cameras, glasses and more.
We offer a turn key solution, that is totally customized to the clients price point and marketing purpose.
With an in house production facility - we even offer a 3 hour rush service.
With 24/7 customer telephone support - our clients members/donors/customers are always in great hands.
Our list of clients include - CAA, AARP, AAA, GM, Toyota, Daymond John's Moguls Mobile (FROM TV'S SHARKTANK), Honda, Volvo, Rogers, Bank of America, Foresters, hertz, Mobile1, Government of Canada, Google and many more -
My role within ReturnMe revolves around business strategy - welcoming partners, distributors, clients and potential investors into the company.
Currently working as Vice President of Business Development, I guide the marketing team in executing the company's strategic growth into new vertical markets, while maintaining support for our existing channels.
I am also an investor in the company - and firmly believe ReturnMe should protect everyones valuables on the planet.
Each day - we prove that humanity is generally honest, and kind - by reporting lost items as found;
and helping us deliver them back to their rightful owners - from anywhere in the world.
Amilia
2013 to 2014
Consultant - VP Business Development
Amilia description:
http://tinyurl.com/nfy5dgj
Team leader for entry into U.S. market; including all sales lead generation, marketing support, front end software changes, and partnership planning/execution.
Grew Amilia's client base from zero transactional revenue to 2.5MM in 5 months.
Planned and executed partnership model, signed membership based partner (also as a client) and generated over 1MM in transactional revenue within the first 2 months.
Managed out bound cold call lead generation, accounting for 35% of new U.S. client conversions
Planned and managed payment partner lead generation project, with opportunity to leverage 1000+ independent sales rep's.
Introduced Affiliate Marketing partnership, generating new business leads via online marketing pay per lead
Designed and executed 'poster child' campaign, highlighting the success of our U.S. client early adopters. Interviewed clients via video, requested and received glowing testimonials for future marketing use.
Ville de Sutton
2013
Volunteer
The town of Sutton (Eastern Townships) are working on a vision for how the town will grow within the next 35 years. I am a volunteering my time to work with the town, and Corporation de développement économique de Sutton – I was asked to join the Economic Stimulation Planning group; with a focus on attracting sustainable business to the area.
Member Benefits LLC
2010 to 2013
Vice President, Business Development
Serving the non-profit sector, Member Benefits LLC provides turn-key services for over 140 organizations within the Public Broadcasting and Non-Profit vertical. MB also manages a contracted network of 12,000 local businesses who accept the MemberCard, which is currently in the hands of 800,000+ supporting Members within America and Canada.
Leader for company in revenue growth for 2011 & 2012 via new client acquisition.
Designed new Sales procedure for Business Development team. Recruited and trained new position for lead generation.
Increased attendance at MBI booth at trade shows by 150%.
Broke all prior records for signing agreements with those I met at company trade show booth.
Assisted Founder of Member Benefits LLC in creating positive revenue numbers & future growth plans to establish sale of company to Brook Ventures.
Developed and delivered new virtual MemberBenefit products for all Member Benefits clients
Envisioned, developed and executed major new client vertical, re-envision company product(s), marketing support material and sales plan to increase company revenue and set a path for the company's next 5-7 year window before anticipated sale.
Sale of company completed August 2012 to Brook Ventures
OneBigPlanet (SaaS – Loyalty Platform)
2006 to 2010
Vice President, Sales and Business Development
Third employee hired, within a team that grew to 35 within 12 months.
2nd day on the job – attended NY loyalty conference and pitched OneBigPlanet to prospective B2B partners, and secured offers for our platform (which had not yet been built).
3rd employee hired. Team grew to 35 in 1 year
VP role broken down into two different departments:
MANAGER OF CONTENT AND SALES:
Built the Content Department which secured discounts from national retailers for platform users
Hired, managed, and trained 5 additional staff for the Content Department
Made inroads into several Affiliate Marketing organizations, including Google Affiliate, Commission Junction, and LinkShare – (met with Directors and VP's in person and established relationships).
Negotiated 500+ contracts with national businesses to provide offers via the platform within 1st year
Key partnerships I developed gave OneBigPlanet the ability to have internal Affiliate Managers recommend OneBigPlanet to their roster of clients. This helped OneBigPlanet grow a large credible user base in a short period of time.
MANAGER OF SALES:
Managed entire sales staff – including outside, inside sales reps and lead generation teams (approx 15 team members)
Secured contracts with Major clients (that appeared on OneBigPlanet's corporate website including (but not limited to) CBS (Rachel Ray), Subway, HughesNet, AdminiStaff, US Communities
Generated over 60% of total company revenue via white label yearly fee's paid to OneBigPlanet.
Reported to company CEO, travelled extensively to trade shows in most major US cities
Co-presented with company CEO to obtain further funding via Venture Capital organizations, culminating with an additional investment from Propulsion Ventures.
One BigPlanet was sold in 2012
eFundraising.com
Senior Manager – Business Developent
2000-2006
Top sales person for company (recipient of Heavy Hitter Award for 1MM+ in Sales - team of 70 salespeople) and advanced into role of Sales Training Manager
Launched Business Development Dept, ramping up to a team of 6 in the 1st year
Developed strategic partnership program, from initial idea to partnership agreements
Collaborated between sales and marketing departments to make sure partnerships delivered on revenue forecast. Made sure teams always met their goals.
Help lead the company to become a top 50 fastest growing company in N America
Major individual contributor to the success of Efundraising.com being bought out by Readers Digest (Time Inc Co)
Education
Bachelor of Arts w/Honors - Design Communication – Southampton Solent University - UK
Personal Interestes
Learning from my 3 children
Snowboarding, hiking and other outdoor activities
Being pulled around by my Husky Shadow
Live Music and Indian Food
Travelling for work & pleasure
Powered by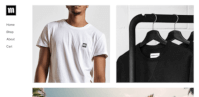 Create your own unique website with customizable templates.