Alastair Monk
A real name; hard to pronounce, hard to spell,
not easy to forget.
About Me
Name:
Alastair Monk
Nick Name
: Ally
Nationality:
British
Special Secret Skills:
Juggling
Unknown Fact:
In 2000 I invited and organized a Canadian wide tour for Adult Comedy Legend Kevin Bloody Wilson - just for fun.
Children:
yes, boy and two girls
Idea I wished I had have acted upon:
Combining fireworks with arrows for 'out camping fun with the boy's' product
Best attribute(s):
Determination & Energy
What needs work:
Speaking French
Date I left England for round the word adventure, starting in Canada:
June 1999
Date I applied for residency in Canada: (halting my round the world adventure):
December 1999
Sports:
Snowboarding, hiking, being pulled around by Shadow my Alaskan Husky

Best advice received:
"Watch out for that car"
Best advice never acted upon:
"Don't get a Husky Dog if you want your house to stay in one piece..."
Professional Background:
When online Fundraising was still in its infancy - I was working at eFundraising.com; and witnessing the birth of a new funding solution for non profits in North America - and all the challenges that presented.
I was asked to head up a new business development dept; and started to find traction within large non-profit and membership based organizations - which helped give me learn a great deal about the challenges faced within each organization I spoke with - many of which are still familiar today.
eFundraising gained in momentum, and we grew to become an Inc top 10 fastest growing company.
I caught the entraprenurienal bug, and continue to work with companies who innovate for their clients, and never stop creating.
Powered by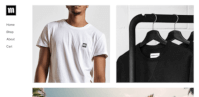 Create your own unique website with customizable templates.